admin | Feb 23, 2010 | Comments 0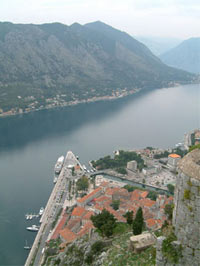 Located along Montenegro's coast that borders the Adriatic sea is Kotor, a secluded city that is nestled up against the Bay of Kotor. Around 13,500 people live here and sister city Dobrota in this former Mediterranean port and one of the oldest cities in Montenegro where the Europe's most southern fjords, stunning limestone cliffs that plunge to the Bay of Kotor, are located. This is a UNESCO World Heritage Site due to both its cultural history and natural beauty, attracting thousands of tourists each year to witness the dazzling visuals of the Adriatic and the surrounding landscapes. Kotor is a very old town and is surrounded by city walls built during the rule of the Republic of Venice, another strong tourist attraction. In fact, Venetian architecture proves to draw not only visitors fascinated by history, but artists who take pleasure and learn much from drawing the local buildings that still bear the strong influence of Venetian aesthetics.
In the Kotor area there are over 23,000 people, the majority of whom are native Montenegrins, but the population also consists of Serbs and Croats, with several Croatian creative luminaries in residence. Other smaller ethnicities represented in this town include Muslims, Macedonians, Yugoslavs, Albanians, Russians, Romas, Slovenes, Hungarians, Bosniaks, Italians, Egyptians and Germans. Along with the different ethnicities there are various religions represented, the minority one being Roman Catholics who have their Bishopric of Kotor here as well as the Cathedral of Saint Tryphon which was built in 1166 AD and serves as a major tourist attraction. Orthodox Christians, most associated with the Montenegro Orthodox Church make up the dominant religious group in this area.
Visitors to Kotor often cover a fairly wide area during their stay, heading to the islets of Gospa od Škrpijela and Sveti Dorde to enjoy some nautical fun in the Adriatic Sea. While the beaches are not particularly suited to those looking to catch some sunshine, Kotor is not far from the Budva Riveiera where many tourist go for more beach oriented activities. The town itself is considered to be one of the best preserved in all of the Balkans which was established during the medieval era. Many different restaurants, pubs and cafes fill Kotor and create an inviting atmosphere for visitors, along with nightclubs that serve up plenty of entertainment. During the summer months, tourists come from around the world to attend Bokeljska Noc, the Summer Carnival. During this time as many as 30,000 people gather to party and enjoy rollicking good times in Kotor.
Those wishing to head inland from Kotor can use the Adriatic Motorway to do so, traveling through the Vrmac Tunnel or towards Sutomore via the Sozina Tunnel. Budva is also a short distance away for those who wish to drive or rent a car. A scenic route is able to give visitors a magnificent view of the Bay of Kotor if they wish to head to Cetinje. A short 5 kilometers away, one can reach the Tivat Airport which offers international service to cities like Belgrade, Serbia and Zurich, Switzerland. A farther drive away is the Podgorica Airport which flies to many European destinations all year around.
Comments (0)