admin | Feb 23, 2010 | Comments 0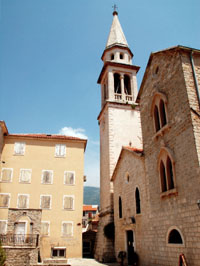 Serving as one of the premiere destinations for visitors to the nation of Montenegro, Budva is located along the coast of the Adriatic Sea and offers a large range of activities for tourists to enjoy. This is a very old city, over twenty five centuries old and one of the very first settlements along the Adriatic coast. Because of its situation there, it has been heavily influenced by both Greek and Roman influxes during ancient times and its architecture therefore carries a very strong Mediterranean influence. With nearly 15,000 people living in this town, Budva is one of Montenegro's larger cities and not far from another coastal hot spot, Kotor. It is quite famous for what is called the Budvanska rivijiera, a major tourist draw that brings in visitors regularly from around the world. In fact, the wealthy are regularly attracted here to the point that locals have nicknamed Budva "Montenegro's Kuwait" because so many millionaires reside in this city. In fact, many would be surprised to learn that Budva is known as having the most millionaires per capita in all of Europe.
To get an idea of just how popular Budva is for tourists, consider the fact that during the summer months of 2007 alone there were more than 330,000 visitors who came to enjoy what the city has to offer. Not only do people come here to enjoy 11 kilometers of sandy, picturesque beaches, the will visit other smaller villages in the area, too. The most popular beaches along the rivijiera are Mogren, Richard's Head, Slovenian Beach and Guvance. Resort towns such as Milocer and Sveti Stefan also draw in the rich and famous from time to time due to their paradisiacal conditions. However, it is probably the night life of Budva that is most alluring to most visitors and in particular, young adults. While food and drink is quite rich here, there are a huge number of open air clubs and closed nightclubs which offer the chance to party until the wee hours of the night. Since the city is sunny 230 days out of the year, there is a huge incentive to get out and enjoy the sunshine that is incredibly attractive to visitors in both the warm summer and mild winter months. The fact that both the Rolling Stones and Madonna have given concerts here also adds to the draw of Budva as a major entertainment capital of the Balkan region, drawing in many from neighboring nations who want to join in on Montenegrin fun.
Transportation to and from Budva can be accomplished by driving or making use of a rented vehicle. There are two lane highways that feed into the city and offer two routes to Podgorica, the main city of Montenegro, which is 60 kilometers away. One may travel through the Sozina tunnel or pass through the city of Cetinje. Other cities can be visited by way of the Adriatic Highway which reaches all the way into Croatia. Tivat Airport is the closest, being only 20 kilometers away, but another airport is also available in Podgorica.
Comments (0)